Why treat your face like a jigsaw?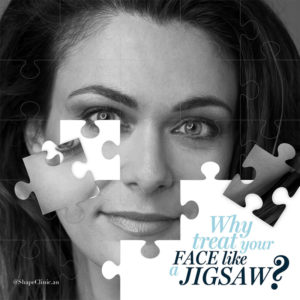 Non-surgical facial injectables have become the most sought after cosmetic treatment worldwide. Yet, now it is established as a safe, effective and essential part of keeping us looking at our best I am constantly amazed at the haphazard way patients approach their facial treatments.
While no-one would contemplate having three or four dentists or cardiologists, patients seem to think nothing of going from one clinic to the next for their facial injectables. They will get their forehead treated with one clinician, their mid-face filled at the next and another specialist for laser treatments. They treat their face like a jigsaw puzzle, a collection of separate parts rather than the face as a whole.
Lecturing around the world I have noticed this is a growing trend everywhere – be it Europe, the United States or Asia. And it comes at a big cost. At a time when new advanced treatments and products are delivering unprecedented results, these patients are missing out. And worse still, we are starting to see more patients with suboptimal results and a disharmonious facial appearance because they don't have an overall facial treatment plan.
Our face is our unique identity. It's how we are recognised. It's how we communicate to others. It's the most effective piece of machinery in the universe.
Yet even a supercar needs a regular service to function properly and look fantastic. And our faces are generally the most neglected and abused part of our bodies.
We laugh, we eat, we kiss and we cry, our facial muscles stretching our skin and fat. In time we get fine lines and finally they turn to deep furrows. Sun damage and airborne toxins also take their toll, combined with the inevitable physiological changes of ageing. This leads to dryness and blotchy pigmentation of the skin, flatness to cheek, droopiness to eyelids, jawline and neck: the hallmarks of an ageing face.
Despite the folklore, there really is nothing Graceful about the ageing face. Nor do we 'get the face we deserve'. The harsh reality is that the ageing process almost always makes our face look sad, bitter and angry.
After years of educating the public, at my Shape Clinic in Sydney, Australia we are finally seeing men and women embracing the concept of a Facial Treatment Plan. They get a comprehensive consultation, talk about their concerns and are offered a range of treatment choices based on their age, their personal goals, the downtime involved and their budget. Priorities are set out and treatments are staged accordingly over a few years, including surgery and non-surgery.
The first stage usually involves treatments that give them instant "bang for their buck", with a new refreshed and yet natural look.
But for me, more the most exciting part of any facial treatment plan is helping patients understand we can give them something much more valuable than the standard marketing promise to make them look younger.
We can make them a more beautiful version of themselves.
The truth is there no treatments that can make a 50 year old woman with 50 year old skin look five to ten years younger. Not at this stage anyway. But with the artful use of lasers, filler volumisation , anti-wrinkle treatments and – if required – surgical face lifting, what we can do is make them look more beautiful and at their best at every stage of the life.
As fashion icon Valentino simply stated when asked what do women want? he said "They want to be beautiful". I can't agree more.
It was with that philosophy in mind I devised the Beauty Through The AgesTM program at Shape Clinic, Sydney Australia.
The program is based on the principle that regular non-surgical procedures (skin care, anti-wrinkle treatments, dermal fillers, laser) to beautify the face and reverse the effects of ageing are far more effective than waiting until major invasive surgery is needed to repair sagging jowls and skin folds. The program is used to guide patients through each decade of their life with the best and latest procedures available. The aim is for them to look their best, look more beautiful at every age of life.